One of the most frequently asked questions to real estate agents from sellers who are trying to sell their home is that "should I stage my home or show it empty?". According to the National Association of Realtors (NAR), 31% of sellers' real estate agents said they staged all sellers' homes, while 42% of sellers' realtors stated that they did not stage homes before listing them for sale, instead suggesting that the home seller declutter or fix their property. 
But, before we dive into the topic of should I stage my home or show it empty, we will discuss first what is House Staging. House Staging (a.k.a Home Staging, Real Estate Staging, and Property Styling) is the professional service of preparing homes for sale or simply the art of making your home more appealing to the most potential buyers for the best possible price before listing your home. The objective of house staging is to optimize the appearance of the home and be more attractive to home buyers and detract one's attention from the home's imperfections.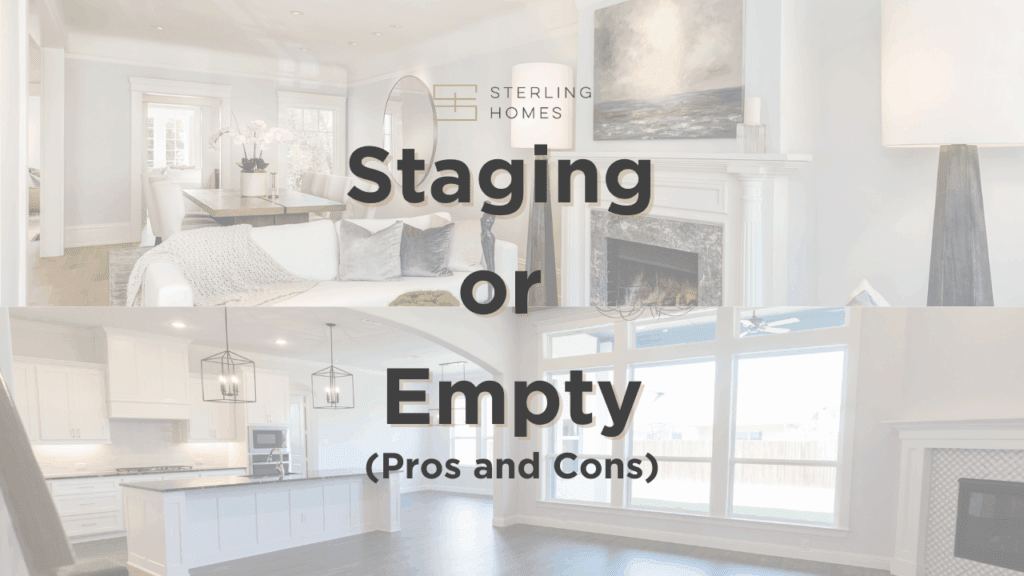 Home staging
Advantages: 
One of the main pros of staged homes is that it makes listing photos more appealing and can create a more emotional purchase to your potential buyers which can help sell your house faster. 
Buyers will find themselves imagining life in such a perfectly styled home. It will almost feel like making dreams come true.
House staging is also a great way to make your home stand out from the crowd. A staged home shows that you've taken good care of the property. 
According to the (NAR), 23% of buyer's agents said that staged homes increased the dollar home value offered between 1 and 5%, compared to other similar homes that were not staged.
Disadvantages: 
The cons are the cost and the time spent on staging. Although there are some great benefits of staging your home, it can be quite expensive and takes time to get done. Be sure you are willing to pay for it. You don't want to end up on the auction block with an empty house.
The market date will possibly be a week or two later.
You may have to account for the removal of staging in your sale timeline.
Show it Empty
Advantages:  
Although not as common, some home buyers will approach a vacant home and find it easier to see themselves living in the home. When your home is staged, some home buyers may have a hard time visualizing how they will fit their own lives into the picture.
Another advantage of selling an empty home is that it shows you move on, declutter, and is ready to sell the home. It will be an advantage to some home buyers who like to move into the house right away. 
You will be able to put your home on the market quickly and close escrow quickly with no delay that is related to the removal of furniture or staging.
Disadvantages: 
Empty homes don't sell as fast as occupied homes. 
The photos will show the home is empty and lonely.  
Another disadvantage of showing a house empty, aside from homebuyers is going to think you are in a rush to sell your home.
If there are some home problems you can't hide them and it will illuminate the home buyer's eyes (the more problems they see the lower the value of your home).
When selling your house whether you should stage your home or just leave it bare will also depend on your personal preferences. Some homeowners like to keep their homes looking nice. Staging is not for everyone. However, if you feel as though you could benefit from having a clean, fresh appearance in your home then you may wish to stage it. Mentioned above are the advantages and disadvantages of both approaches. You will determine which one works best for you. I hope this article is useful.
If you are ready to sell your home for top dollar, find the best agents.